Astronomy Scholarships at San Diego State University
William F. Lucas endowed undergraduate astronomy scholarships at San Diego State University and the University of Arizona. The Lucas scholarships are not administered by SDAA but are under the purview of the universities themselves and interested parties should contact them directly. As of 2023, SDAA understands that the San Diego State University Lucas Scholarship is available.
In order to be eligible for the William F. Lucas Scholarship at SDSU, students must complete the general application via Aztec Scholarships. Applicants must be majoring in Astronomy and have a GPA of 3.0 or higher. All class levels are eligible, including incoming freshmen, freshmen, sophomores; juniors; seniors, and graduate students.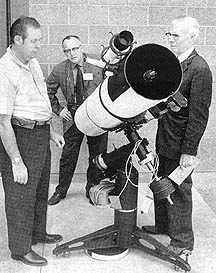 Bill was an early founder of the San Diego Astronomy Association (SDAA) and instrumental in developing the 10-acre Tierra del Sol observing site. For many years Bill taught mirror and telescope making in the basement at the Reuben H. Fleet Science Center in Balboa Park. Although unable to return to college to seek his dream of becoming a professional astronomer, Bill was immensely effective in promoting astronomy in Southern California.
In 1970 Bill received the first place in Optics at the Riverside Telescope Makers Conference (RTMC). John Dobson, inventor of the Dobsonian telescope, related being pleased to have tied with Bill as a respected telescope maker. (Author – I still have the 8″ Bill helped me grind, and took it to RTMC 2001).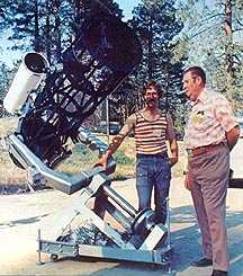 Bill worked for Lockheed in the late 60's and 70's at the undersea submersible facility on Harbor Drive west of the U.S. Coast Guard station. He was involved in maintenance and new projects with the undersea research vehicles. If Lockheed didn't have the equipment, many times Bill would bring home projects to build using his machine tools or breadboard if it was an electronic part. One Saturday morning in the late 1970's, Bill died of a heart attack. Betty took ill not long after and passed away within a year or two of Bill's death. Without children or known family, Betty selected two SDAA members, Mike Albers and Mike Anderson, to award to a school or schools their estate. SDSU and UA were awarded equal endowments of approximately $ 150,000.
You, the recipients of the William F. Lucas Scholarships, are the beneficiaries of Bill and Betty's life. In their memory, the SDAA extends to you a complimentary Associate membership during your scholarship years. We invite you to present your astronomy interests to our membership at our monthly Program meetings at Mission Trails Region Park. You will receive the SDAA News and Views monthly newsletter and are invited to participate in our activities. Please send in the application indicating you are a Lucas Scholarship recipient and student.
May we have clear, dark skies!
Dennis P. Ritz
In Memorial to William F. and Betty Lucas
From The Old Astronomer to His Pupil:
Though my soul may set in darkness, it will rise in perfect light;
I have loved the stars too fondly to be fearful of the night.
by Sarah Williams, "Best Loved Poems of the American People",
Hazel Felleman, ed. Garden City Publishing Co., Garden City NY: 1936, pp. 613-614